NextPhase Designs Dynamic New Packaging for Vuzix Video iWear Product to Go Head to Head with Oculus Rift
Vancouver, BC, October 15, 2015 – NextPhase Strategy announced today that the company has completed design and production of the Vuzix's new Video iWear Headphones packaging. Never before has a single personal entertainment device offered a comparable level of video and audio performance in a mobile solution.
NextPhase Strategy's Brand Strategist, Ullrich Schade explained, "The winner of multiple Consumer Electronic Show awards, the iWear is a high-end pair of video headphones, that provides users with a mobile wearable video display and gaming solution featuring dual high-definition displays. The challenge was to produce packaging that was exciting and eyecatching – while having a strong, sophisticated look in keeping with it leading-edge technology."
NextPhase has worked with Vuzix since early 2007, and is helping to relaunch the company's iWear® product line with the new flagship product that will go head to head with Oculus Rift. In the past, NextPhase has assisted Vuzix annually with product launches at the Consumer Electronics Show (CES), Game Developer's Conference (GDC) and RetailVision. Other projects completed by NextPhase included packaging, advertising and marketing collateral for Vuzix's numerous products.
"We've been extremely pleased with NextPhase's creative and service," stated Grant Russell, Executive Vice President. "They did an outstanding job producing this new packaging design for our new flaghip product – the Vuzix iWear Video Headphones."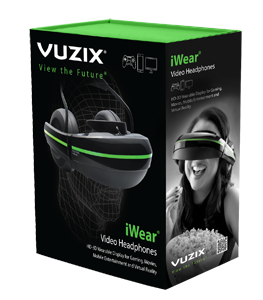 About Vuzix Corporation
Vuzix Corporation manufactures and sells video eyewear for the entertainment, industrial and low vision medical markets. Vuzix products provide users with a portable and private big screen experience that can be used practically anywhere, anytime. Currently Vuzix produces the broadest range of video eyewear solutions in each of its various markets, including 3D video, virtual and augmented reality solutions. The company is revolutionizing the personal display industry and aims to continue to create mobile products that can enrich both the personal and work lives of its customers. Founded in 1997, Vuzix has offices in Rochester, NY, London, UK and Tokyo, Japan.
About NextPhase Strategy
NextPhase is an award-winning branding and marketing company focused on producing results for its clients by providing complete integrated marketing communications services. NextPhase has a 30-year track record helping companies build brands, drive sales and penetrate new markets. The company represents both emerging start-ups and established companies marketing their products throughout North America and beyond.
For more information, please contact:

Ullrich Schade
President and Brand Strategist
NextPhase Strategy Marketing Inc.
Tel 604-669-1180
uschade@nextphasestrategy.com