A Blast from the Past
Packing up and moving usually inspires and requires us to sift through all sorts of boxed away bits and pieces from the past. And that's exactly what we did during our recent move to our new Yaletown office. And guess what we found: a picture from the 80s of our old, burned-out office - now the Yaletown Galleria building.
On July 1st of 1981, as owner of USA - Ullrich Schade and Associates, I was at the cinema with my wife Robyn, watching Das Boot - a chillingly realistic WWII movie with lots of burning and torpedoed ships. On our way back home, we smelled smoke, but didn't give it much thought. The next morning, my friend Derek Murray, who owned a photo studio in the same building, called me with the bad news...his office had burned and my office was completely smoke and water damaged. It all started with a fire originating in the clothing importer's space down the hall - and something to do with getting rid of a large quantity of non-licensed kids' Disney clothing they couldn't sell due to copyright infringements. All my work was destroyed. My bookcases, design books, work samples, layouts, advertising memorabilia, graphic camera - the list goes on and on - was gone. In the end my company lost over $100,000 - which was a very large sum in the early 80s. From there,
we moved to West Georgia...and now, we have traced our roots back to Mainland Street.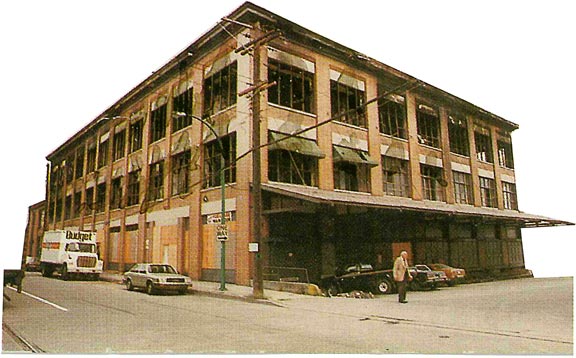 Image of the burned out building.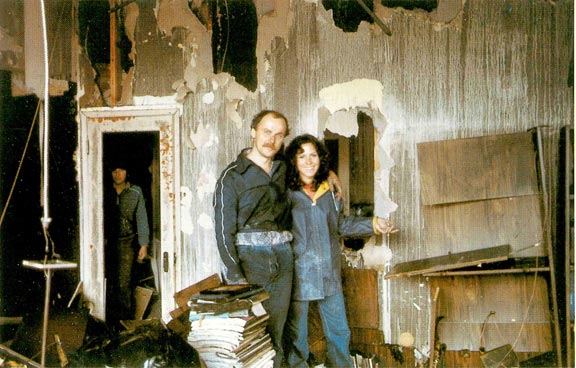 Ullrich and his wife, Robyn, in the office after the fire.